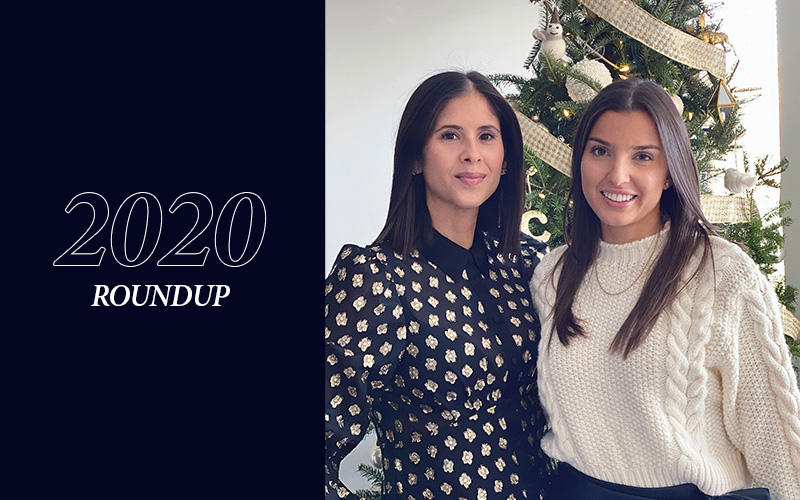 To my clients & community:
Following the announcement of new COVID-19 regulations put in place by the Quebec government this week, I want to let you know that real estate activities will be continuing. Although our physical office will be closed until January 10, we remain available to you through email, calls, virtual tours and scheduled visits with the usual health and safety precautions in place.
As always, you have my full support and dedication. I am available to answer all of your questions and look forward to achieving your real estate goals together.
2020 Roundup |  Lightning Q&A with Carly and Michelle!
This year has certainly been one for the books. Through all of the ups and downs that 2020 brought, we are so proud to have successfully continued our collaborations with our clients, colleagues and collaborating brokers.
Here are some of our most memorable moments of 2020:
How many transactions did Team Carly Fridman complete in 2020?
Carly: We did 82 transactions in 2020- that includes rentals and sales. A big shoutout to Michelle because she did about 25 of those transactions and it means our team is growing and we're looking forward to 2021!
Most memorable transaction from 2020?
Carly: 1307 Belanger; Ghazal and Jordan- I've bought and sold with them (and baby Nor!) and they've become a part of my family. Sometimes you meet clients and you do a transaction with them and it's just great- one for the books.
Michelle: De la Tour! This transaction began around when COVID-19 started. After the inspection things started to fall apart and it was one of the few that we lost because of COVID but thankfully we were able to recover many of them throughout the rest of the year.
Favourite broker collaboration from 2020?
Michelle: For me it was Claudia Lefebvre. We did a transaction at 18 Bord-du-lac and both of our clients were extremely difficult but thankfully because we had a great working relationship we were able to get the transaction done quickly and efficiently.
Carly: For me, funny enough, it was a rental with Melissa Marrone and she just hit it out of the park. It's rare that I see a young broker with little experience work as well as she does and she just killed it.
Weirdest real estate experience or sighting of 2020?
Michelle: For me it was signing a promise to purchase in the back of a laundromat [laughs]!
Carly: Oh the places we go! For me, the weirdest thing that I saw in a house was definitely seeing a ski stuck in-between a foundation pole during an inspection!
What is your favourite holiday tradition?
Carly: Obviously this year doesn't allow us the same possibilities for traditions as usual, but one tradition that I was able to do this year was to cut down my own Christmas tree and it has definitely kept the holiday spirit alive.
Michelle: For me, no doubt, it's going to be Christmas morning with my family, we are so fortunate to be doing that this year.
What are your goals for 2021?
Carly: I have many goals for myself and our team in 2021 BUT I have this one client that I hope to sell a house to in 2021, it's been 4 years in the making.
Michelle: For me, as many of you know, I do lots of rentals, so I would like to transfer those rentals into sales.
What are your 2021 real estate goals?
We are here to help you achieve them. Whether you are looking to buy, sell, rent or invest, we have all of your needs covered.
Back to News